Posts Tagged gifts


And day 2 of the wish list.
A couple of years ago, Experience Studio (my former company) was moving into a new office space and searching for really cool office stuff. One place we looked was Artafax at Kierland Commons in Scottsdale.  I spotted a trio of fish-shaped vases filled with various flora and fauna. Yes, I said fauna. One of the vases was being used as a fish bowl with a real live fish chillin' in his own likeness. Very cool.
While Artafax repurposed their fish-shaped vase as a fish bowl, SkyMall has an actual fish-shaped fish bowl. Also very cool.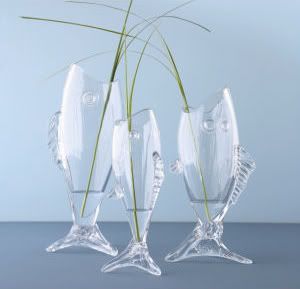 If you do a little research on the care of fish and fish bowls, you'll quickly learn that fish bowls don't provide an ideal environment for pet fish. The two biggest issues are that most fish bowls are 1) too small for adult fish, and 2) too small for filtration systems. If there are any good fish bowl fish, they might be betta fish and paradise fish, both of which have the ability to breath oxygen from the water surface.
Whether you want (or want to give) a fish or a decent reason to have a really cool fish bowl, it might not be a bad idea to ask a pro at a local pet care store before you buy anything.
Temporary Error. Please try again!!(4)

And day 1 of the wish list.
If you're an architecture, art, and sustainability enthusiast in Arizona, you're probably familiar with Paolo Soleri, an Italian-American architect well known for his thoughts on sustainable urban growth. Deemed arcology (architecture + ecology), the goal is a hyperdense city that facilitates human interaction, optimizes access to shared infrastructure, minimizes use of valuable resources, reduces waste and pollution, and encourages interaction with the natural environment. Arcosanti, located 70 miles north of Phoenix, is the living labortory for Soleri's explorations of an arcology for the high desert.
Perhaps lesser well known are Soleri's ceramic and bronze windbells. I'm partial to the bronze windbells. They are moldcast, but each is truly unique in their burnishes and patinas.

Soleri windbells at Arcosanti, by aelfscine
The smaller, simpler bells are priced as low as the mid $20s, and there are quite a few bells under $100. There are also cause bells whose designs reflect any one of a number of local or global concerns, including wildlife preservation, hunger, and literacy. Proceeds from all bells support the continued construction and programming at Arcosanti.
You can buy the windbells at Arcosanti and Cosanti (6433 E Doubletree Ranch Rd in Paradise Valley), as well as local shops and retailers. Last year at this time, I purchased one a patina bronze bell for my parents at the Phoenix Art Museum store.
Soleri windbell, by drogi1
Which means Christmas is just around the corner. I love the holiday season. The parties, the traveling, the hot spiced wine (a family tradition), the rum balls. And the giving. Oh, the giving. Every year, with Budget in mind, I compile a list of who I'm shopping for, what I think they'd like, and cap on what I want to spend. With out fail, I not only exceed Budget, but wring its neck and bury it six feet underground. Some might call it manslaughter, but I call it justifiable homicide. After all, it's about the high of being able to give cool stuff to my peeps.
Budget gets a stay of execution this year as financial limitations equal giving limitations. But that doesn't mean that I can't do my part to help stimulate the economy. Other people will be shopping for gifts (including my parents who buy me stuff even if I tell them not to). So starting on Black Friday, I'm going to [try to] write about one thing each day that I think would make a cool gift. I'll [try to] keep it unique and interesting. It'll all be stuff I like, but I've heard that if you really like something, then chances are someone you know will really like it too. My hope is that you'll discover something that'll be loved by a sibling, friend, parent, spouce, or yourself. And when you do, buy it, wrap it, & put it under the tree.