Posts Tagged SkyMall


And day 2 of the wish list.
A couple of years ago, Experience Studio (my former company) was moving into a new office space and searching for really cool office stuff. One place we looked was Artafax at Kierland Commons in Scottsdale.  I spotted a trio of fish-shaped vases filled with various flora and fauna. Yes, I said fauna. One of the vases was being used as a fish bowl with a real live fish chillin' in his own likeness. Very cool.
While Artafax repurposed their fish-shaped vase as a fish bowl, SkyMall has an actual fish-shaped fish bowl. Also very cool.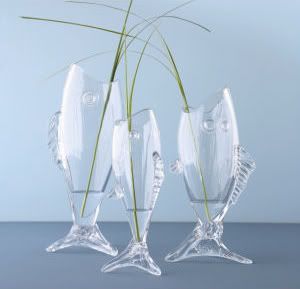 If you do a little research on the care of fish and fish bowls, you'll quickly learn that fish bowls don't provide an ideal environment for pet fish. The two biggest issues are that most fish bowls are 1) too small for adult fish, and 2) too small for filtration systems. If there are any good fish bowl fish, they might be betta fish and paradise fish, both of which have the ability to breath oxygen from the water surface.
Whether you want (or want to give) a fish or a decent reason to have a really cool fish bowl, it might not be a bad idea to ask a pro at a local pet care store before you buy anything.
Temporary Error. Please try again!!(4)